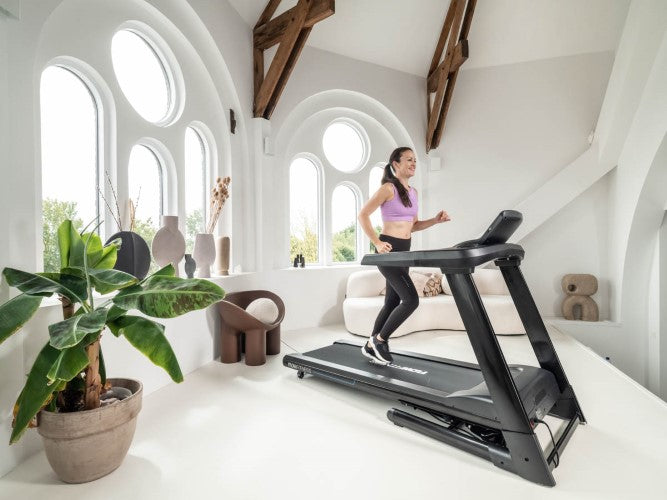 Investing in a home treadmill is a great way to ensure that you have options to exercise at your own convenience, when you can't get to the gym or can't get outside. In choosing a treadmill for use at home there are several things worth considering. In this guide we will provide you with our top tips and the information you need to ensure that the treadmill you buy is the right one for you.
Tip One: What will you be using it for and who will be using it?
This may sound like a ridiculous question, but it's quite important. There are more options than you may think. For example, if you have not recently exercised, if you are elderly or have an injury or health condition that makes you potentially more vulnerable you may consider purchasing a walking treadmill that offers a cardio workout at a gentler pace. A number of our Landice treadmills come with the option for a full length rail which makes for a very safe running machine especially for those who are rehabilitating from injury or need the extra support. 
Alternatively, if you are training for a race, or if the treadmill will be in frequent use at higher speeds then it may be worth considering a treadmill with a powerful motor, longer belt and better shock absorbency as running inevitably places more stress on the machine than walking. 
If the treadmill is going to be used by several different people then you may also wish to consider models that have a range of workout options such as heart rate monitors, inbuilt exercise programs, or technology that allows you to connect the treadmill to apps, streaming services or websites.
Tip Two: Budget, finance and warranty
This is linked to your fitness objectives and the environment the treadmill is used in. 
Treadmill prices can vary incredibly and be cautious of companies offering huge discounts. Often when comparing specifications, you will see a trend in the price points, irrespective of what they say it used to cost. 
Entry level treadmills will sacrifice both style and quality to achieve the lower price points. At UK Fitness we have not found a sub £500 treadmill that delivers the product quality we demand. We therefore look for products where the price point and specification are perfectly matched to offer our customers great value along with a product that meets their expectations.
 Commercial treadmills can be used in home environments and will deliver an incredible experience however they are very large and more expensive.
 As is the case when buying any piece of home gym equipment, you get what you pay for. The more you spend, the more likely you are to find better durability, quality, comfort and design. Consider buying a recognised brand or manufacturer with an established reputation. 
Go for models that offer long warranties on the frame, motor and parts as this will be an indicator of quality. Cheaper pricing and no aftercare support can end up costing you more in the long run. Products that are installed and registered with us, are covered for longer, giving you ultimate peace of mind on your fitness purchase.
At UK Fitness Equipment we can help you find the perfect fitness solution for your treadmill requirements. For example, are you looking to watch a box set whilst training? This can be achieved by our commercial Endura Fitness Infinity Pro Treadmill that features a built-in screen with wifi and screen mirror technology. Or you could go for our best selling Flow Fitness T2i Treadmill which is packed with features, delivers a great running experience and can connect to your tablet or phone for these features.
Tip Three: Space
A treadmill can look much smaller in a spacious gym environment than it will in your home, so be sure to measure your space before committing to a purchase.
If space is an issue you may consider a folding treadmill, however it will still occupy space when vertically folded and so you need to bear this in mind. They're a great option if you have a small workout area or if you want to maximise your space when not in use. A folding treadmill may also be easier to clean around and under. 
Unlike a static, non-folding treadmill, a folding treadmill will be easier to move. Even though some may come with wheels they can still be quite heavy to manoeuvre, so you may want to think about the weight of the treadmill to ensure that you can physically move it.
Ideally once in place, in your preferred workout area, we would recommend that it stays there. That said, some models, such as the walk pads and DTM400i's are designed to be lightweight and compact; whilst others may have an automated lift and drop function for raising and lowering the running platform.
Non-folding treadmills are a better option in terms of stability. Although they can cost more, they tend to have more powerful motors and offer better performance and quality all round. They also offer more resilience and reliability for heavier individuals.
Tip Four: Horsepower
When comparing treadmills, you should consider the horsepower of the motor, often abbreviated to HP. The HP delivered by the motor correlates to the quality of the treadmill and will have a direct impact on the feel of your workout. Walkers and joggers should aim for a minimum of 1.5 to 2.0 HP, however if you aim to use the treadmill regularly, for running, a treadmill with an HP of 2.0 to 3.0 may be more appropriate. You may also need to consider a more powerful motor if you are heavier in weight. Always check the max user weight of a machine to make sure it is suitable for you.
Tip Five: Technical specifications
In addition to horsepower there are other technical specifications worth considering when selecting your treadmill.
How quick should my treadmill be? 
Slow walking – It may be worth considering a walking treadmill. The Flow Fitness Walker DTM100i Folding Treadmill a maximum speed of 6km/h making it ideal for moderate exercise, at an achievable pace.
Fast walking & jogging – We would recommend treadmills that can reach 10-14km/h. The Flow Fitness RUNNER DTM400i is a compact, space saving, foldaway treadmill with a maximum speed of 14km/h.
Running – Ideally you will want a treadmill that can achieve up to 14km/h+. The Flow Fitness Perform T2i Treadmill is ideal for runners wanting to improve their speed and stamina.
Whatever your fitness goals are, is important to consider your current fitness levels and capabilities, particularly if you haven't recently exercised. Please contact us for expert advice if you have any concerns or questions about selecting the right treadmill for your personal requirements.
What incline levels do you need on your treadmill? 
Choosing a treadmill with an incline can add variety to your exercise program. It can also increase the intensity of your workout whilst minimising impact on your joints. Aim to select a treadmill with an incline of 10% or higher.
How to work out the best running belt size for your treadmill? 
For people who are 5ft 7" or less we would recommend a minimum belt length of 48" inches for walking and 50 inches for running. If you are taller than 5ft 7", we would recommend a minimum belt track of 50" inches for walking and 56" inches for running. If you are over 6ft 5" you will need a longer track to accommodate your stride: preferably 52" inches for walking and 60" inches for running.
The width of the belt will depend on your frame but aim to select a treadmill measuring at least 18" inches wide. Please contact us for advice if you have any concerns about choosing the correct treadmill for your height, size and frame requirements.
Is maximum weight information on a treadmill relevant?
This is particularly important if you are a larger or heavier individual and it may also give you an indication of the durability and quality of the equipment. Ideally when selecting a treadmill, you will be well within the maximum weight requirements rather near the top end, this is particularly important for runners. Also consider how long you will be running on the treadmill for. 
How important is cushioning on a treadmill? 
It is fundamentally important to consider the amount of support provided when selecting a treadmill as walking, jogging and running can impact heavily on sensitive knees and joints. A well cushioned running platform should absorb the shock of the initial placement of the foot, towards the front of the running belt, this will minimise the impact on the user. Moderate cushioning is required in the middle of the platform as you progress through your stride, whilst firm support at the back of the treadmill is ideal to enable you to push off efficiently and maintain momentum. The belt shouldn't move around with every foot placement.
Tip Six: Features, Programs and Applications
Console
A treadmill console comes with an array of helpful tools, therefore it is important to ensure it is within easy reach, clear to see and simple to use. It allows you to track time, incline, distance, calories and heart rate. Consoles on some of the top end treadmills come with numerous features allowing you to connect to your email, stream a box set, or use your favourite apps such as YouTube and Netflix whilst you workout.
Our Endura Fitness Infinity Run Pro Treadmill features a 23" HD touchscreen console with an Android operating system. Runners can get fully immersed in their workouts and are able to complete 30 well-known virtual reality courses from all over the world.
Workout Programs
These are programmed into the treadmill and will give you a pre-set incline / intensity workout, with the machine automatically adjusting the intensity of your workout by changing the speed or incline. Manual adjustments can always be made to ensure you are training safely or need to increase the intensity. Exercise programs are a great way to challenge yourself on your home equipment. Competing against yourself for either distance covered, or time, is a great way to ensure you remain motivated to train.  Look for a treadmill that offers a good amount of programs or one that can be linked to a training app that gives you infinitely more options!
Heart-Rate Monitor
Working out within a pre-set heart rate zone is a proven way to improve your fitness. From weight loss objectives to increasing stamina, zoned workouts help keep you focused on your home training. Most treadmills will have grip sensors that will give you a basic heart rate reading that will be displayed on the machine. There is also heart rate control, where by either holding the sensors or using a wireless chest strap, the intensity of your workout will be controlled by your heart rate. This allows you to keep your workout within a pre-set zone.
Console controls
Look for well labelled, intuitive controls: up/down buttons, quick one-touch speed and incline buttons, and large, easy-to-read displays that show multiple functions (time, speed, heart rate, incline) at once. Flow Fitness utilises a smart wheel system that not only looks great but provides a simple way to interact with the console.
Finishing touches
Most treadmills will have some sort of tablet / phone holder (Some will even charge your phone wirelessly) so you can add your own device.  Some will include speakers, touch screens, web browsers, or screen mirror options. The Endura Fitness Infinity Pro Treadmills use the same Android operating system as many leading smartphones to deliver amazing interaction all within the 23" HD screen. If there is something you would like your treadmill to do, contact us and we can talk through the options with you. 
Apps
Tunturi Routes
Tunturi Routes is a free app that can be downloaded from either Apple or Google stores. There is a paid-for version that provides all the features listed below. Designed for Bluetooth compatible Tunturi Treadmills it takes your training options to the next level. If the pre programmed workouts are not enough, you will find a brand new resource here. Fancy running around San Francisco bay? No problem, the treadmill adjusts the incline level to match the virtual course you are running. There are over 50,000 videos to choose from. Pro coaches from around the world have uploaded their coaching sessions onto the platform meaning you can follow fitness instructors from the comfort of your own home. Visit our Tunturi Routes page for more info.
Kinomap
Designed for an immersive fitness experience Kinomap is actually the brains behind the Tunturi Routes app and can be used with any Flow Fitness Bluetooth enabled fitness machine. Delivering the same mix of free and paid for training content it ensures you have new and exciting challenges each time you train. The free app gives you starter videos, and connects to your Bluetooth enabled equipment. You can then share your activities on the website. The paid version gives you a workout routine, access to the huge video content library, and join multiplayer sessions with participants from all over the world. You can even join challenges and be qualified for live races in a real life mode! For more information head to www.kinomap.com.
Iconsole+
Designed to work with Flow Fitness via tablet or smartphone Bluetooth connection, the app provides a wide range of training options. From running routes around the world, to interval training whilst watching your favourite TV series. You can log your daily training and review your progress. The app provides a great way to add further training options to your treadmill.
ZWIFT
We often get asked "Can I get my Treadmill to work with Zwift? 
Running the virtual roads of Zwift could not be easier and will work with any of our Flow Fitness, or Tunturi treadmills. In order to experience the virtual courses offered by Zwift, just purchase the Zwift Run-pod and download the Zwift App. https://zwift.com/uk/shop/product/zwift-runpod
The RunPod is a cadence sensor that attaches to your running shoe and keeps track of each step. The RunPod then transmits your speed to the app which is represented on your tablet or smartphone via the app. We would highly recommend the Flow Fitness T2i Treadmill which has a strong motor and a high top speed, making it perfect for Zwift style training.
Tip Seven: Delivery, installation and setup
When purchasing a treadmill, we would advise buying from a company who includes the cost of delivery in the purchase price. Delivery costs can be significant, and you may not have factored that into your budget.
If your budget allows, we would also advise paying for an installation and setup service. Moving a treadmill from outside your property to the chosen workout area may not be as easy as you think. Getting professionals to install the treadmill and check that it is working correctly may save you time and hassle in the future. Treadmills will usually be delivered only part-assembled.
Our installation engineers will also demonstrate the basic features and programs. Our engineers will fully test and demo your new treadmill and then once registered with us you will receive the full warranty terms and backup support from our UK team.
What Next? 
You can also browse our range of premium treadmills by clicking here.
Need some more adivice than contact us for no obligation consulatation on your treadmill requirements. We will match the perfect machine to your budget, space and training requirements.